---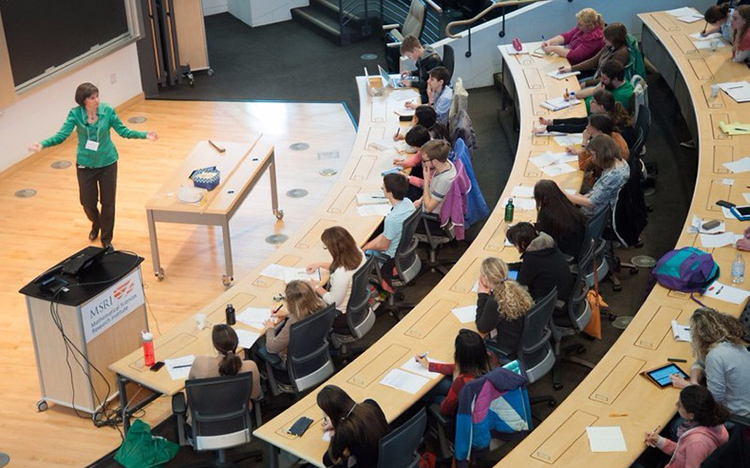 MSRI Programmatic Workshops
MSRI welcomes registrations for our upcoming workshops, listed below. Established researchers, postdoctoral fellows, and graduate students are invited to apply for funding.
Most MSRI workshops are free of charge to attend, thanks to the support of the National Science Foundation and other institutional sponsors.
Programmatic Workshops related to MSRI's Scientific Programs fall into one of the following three categories:
INTRODUCTORY WORKSHOPS
Introductory workshops set the stage and provide the context for the scientific program, with the intended audience being researchers not in the program. This would include members in the other programs, members of the local mathematical community, and participants from outside the area selected especially for the workshop, particularly from groups underrepresented in research intensive contexts: women, minorities, mathematicians not located at research centers, and graduate students. In selecting participants, priority is given to these latter groups. Introductory Workshops have been effective in broadcasting the goals, ideas and techniques of a particular program to the mathematical public at large, as well as in bringing the MSRI community together as a whole.
CONNECTIONS WORKSHOPS
Connections Workshops have a long, successful history of encouraging early-career women and gender-expansive individuals in the profession. Held at the very beginning of semester-long or year-long programs at MSRI, these workshops have three overarching goals: (1) to give accessible introductions to the main themes of the program and exciting new directions in related research; (2) to provide participants the opportunity to become acquainted with the work of women in the field; and (3) to connect early-career researchers, especially women, gender-expansive individuals, and minorities, to potential senior mentors. A typical workshop consists of introductory lectures, presentations by post-doctoral researchers and graduate students, and a panel discussion addressing the challenges faced by all young researchers, but especially by women, in establishing a career in mathematics.
Throughout the workshops, special effort is made to foster mentoring relationships between established and early-career researchers at the lunches, dinners, and coffee breaks. Participants of the Connections Workshop are encouraged to stay for the following week for the Introductory Workshop to the semester's program. The workshop organizers are also encouraged to propose week-end activities for small groups of women with similar research interests to discuss problems and perhaps to begin work on a joint research project (e.g. forming small research or study groups that would work on predetermined problems, read a paper, or leanr new techniques). As is the case for all MSRI workshops, registration to attend Connections workshop lectures is open to all interested persons.
TOPICAL WORKSHOPS
Directed toward the mathematical community at large, topical workshops are designed to interest and attract young researchers and other mathematicians active in the field.
---
How to Apply
Use the calendar below to navigate to the specific workshop you are interested in attending. On the right side menu, you will see a Registration link. Follow the instructions to register for each workshop.
---
Resources for Workshop Attendees
Nursing Room: MSRI is pleased to be able to offer a private room for nursing parents.
Childcare Grants: To allow visitors to fully participate in its scientific activities, MSRI is pleased to be able to offer childcare grants to researchers with children under the age of 17. One of the objectives of MSRI's family support program is to contribute toward MSRI's goal of enabling the participation of women and members of other historically underrepresented groups in its programs, workshops, and summer graduate schools
These flexible grants may be used for reimbursement of childcare expenses incurred in Berkeley, or at home, including airfare for children and support for companion caregivers or hired childcare providers in Berkeley or to cover the costs of such help at home. Please note that, because these funds are taxable, they are available only to US Citizens and Permanent Residents, and foreign visitors with a visa status that allows for compensation, such as a J1. We are deeply grateful to our Family Support Donors for their generosity.
If you are interested in receiving a childcare grant, please fill out this form: https://www.surveymonkey.com/r/Z368L3N.
MSRI is unable to offer any on-site childcare services in Berkeley, nor are we able to make recommendations for child care providers. For convenience, participants looking for childcare resources may find the following links useful:
---
MSRI Policies for Program and Workshop Participants
Funding Opportunities: It is the policy of MSRI to actively support a diverse audience at these workshops. Thus, a strong effort is made to remove barriers that hinder equal opportunity, particularly for those groups that have been historically underrepresented in the mathematical sciences. Women, gender-expansive individuals, minorities, mathematicians not located at research centers, recent PhDs, and graduate students are particularly encouraged to apply for funding to attend.

MSRI Collegiality Statement: MSRI is committed to fostering an atmosphere of respect, collegiality, and sensitivity. Please view the complete statement here.
MSRI Anti Discrimination and Harassment Policy: MSRI is committed to providing a welcoming environment free from discrimination on the basis of race, color, creed, religion, sex, national origin, age, physical or mental disability, family care status, veteran status, marital status, sexual orientation, identification or expression. Likewise, the Institute will not tolerate harassment based on these characteristics, or any form of sexual harassment. Please view the complete statement here.
---
There are more then 30 past workshops. Please go to
Past workshops
to see all past workshops.